Expert Articles & Advice
May 1, 2015
Gardening is a great hobby for all ages, and the younger kids start gardening, the better the chance they will develop a lifelong love of outdoor activities and fresh, healthy food.
May 1, 2015
Late spring is ideal for gardening, and while May can be warmer or cooler depending on where you live and what your general climate is like, these May garden tips can help you keep your flowerbeds, lawn, vegetable garden, and containers in peak condition for fabulous foliage, perfect plants, and beautiful blooms.
Special Offers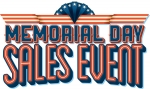 We're having a 10 DAY SALE starting May 21st thru May 31st!
Valid 5/21 - 5/31/2015
Events
5/30/2015 11:30 am to 1:00 pm
Come celebrate Customer Appreciation Day at Walnut Ridge on May 30 from 11:00 am to 1:00 pm. If you've made a purchase on any day during our 10 day sale, bring your receipt on May 30 for a free lunch ticket!